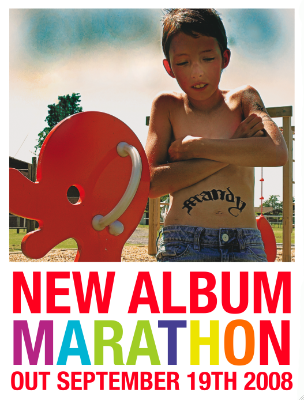 Happy Labour Day to all. I'd really love to be vegging out down the shore right now, but seeing as I have to be in the city and professionally dressed for class at 6 pm, that really wasn't an option. Maybe tomorrow, when everybody has gone home.
In other news, here's a new song for you : Malibu Stacy,
whom I've mentioned before
, are dropping a new record,
Marathon
, come the 19th. (Um. How is it September already...? WHERE'D MY SUMMER GO??) The lead single, "Ladies Can't Drive," is out now. It's the sort of thing that reminds me of the stuff I was listening to between junior and senior year of high school that makes me want to drive to my (non-existant) boyfriend's house, blasting the music with the windows down. August driving music.
Malibu Stacy - "Ladies Can't Drive"
Here are their upcoming dates, in case you're actually living in Europe :
13 September - Bucolique Ferrières Festival - Ferrières, BE
19 September - Emporium Galorium - Rouen, FR
26 September - Cirque Royal - Brussels, BE
8 October - Arsenal - Namur, BE
13 November - Ferme du Biereau - Louvain-la-Neuve, BE
26 November - Vooruit - Ghent, BE
27 November - Het Depot - Leuven, BE
29 November - Coliseum - Charleroi, BE
5 December - Salle des Fetes de Droixhe - Liège, BE
6 December - Petrol - Antwerp, BE
9 December - Botanique - Brussels, BE
13 December - La Chapelle - Mons, BE
No, seriously, how is it September?