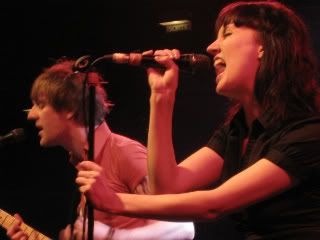 La Trabendo, Paris
The Long Blondes
' new record
doesn't drop for about another month
, but I've got a hold of
what was supposed to be their lead single
, "Guilt," and goodness gracious, this thing has been stuck in my head for about a week now. The funky rhythm that very literally makes me
strut
every time I listen to it on the way to class has lodged itself in my brain, but even more than that, I've very much taken to the lyrics:
I've got a boy and we've been together, you see,
Before I knew you, before you knew me
Now I've made my choice and I'm sticking to it
And guilt has nothing, nothing to do with it
The rest of the record sounds pretty good; it's not
Someone To Drive You Home
, but I think I need to spend more time with it as a whole, as opposed to with just this track. (I mean,
why
is this not the lead single anymore?)
The Long Blondes - "Guilt"
"Couples" drops 8 April. You can pre-order it
here
.
UK and US tour dates are listed at
their 'Space
.