Day two of
Northside
featured some show-hopping – well, a little bit of show-hopping. My main focus that evening was
EarFarm
's showcase at
Spike Hill
, although I had my eye on a few other shows, too. Unfortunately, my notes on this night are rather meager, so you're going to have to enjoy all the pretty pictures instead.
Before the festival started, members of
Coyote Eyes
contacted me and sent along some songs, which is a generally lovely thing to do, and so I looked forward to seeing them live. Alas, we got to Spike Hill in time to hear the last three of their set (that commute is a
bitch
), although I liked what I heard, and Jonathan was enthused – after the
all-girl, all alt-folk show the night before
, he was happy to hear something rock-oriented.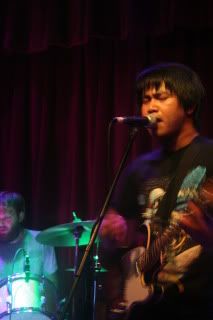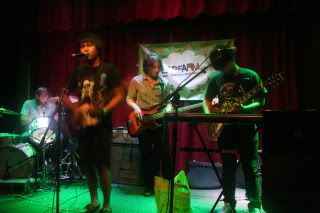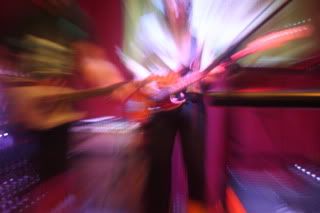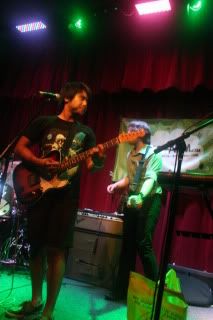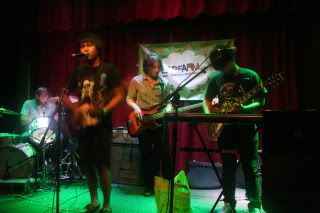 pow wow! All photos by Jonathan Costa.
pow wow!
, who played a whole mess of shows during the festival thereby making themselves the unofficial Northside Fest poster band, were up next, and I really enjoyed their set. After the night before (it had started to wear on me, too), pow wow!'s sunshiney pop sensibilities layered over dancey rock was wholly welcome. I don't have much to say beyond that, but I wish that I'd caught one of their gazillion other shows so that I could.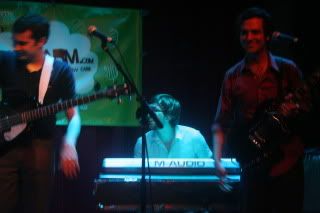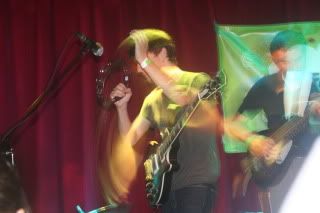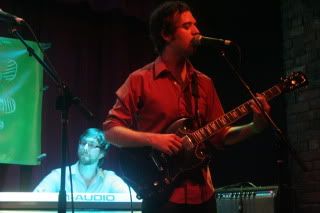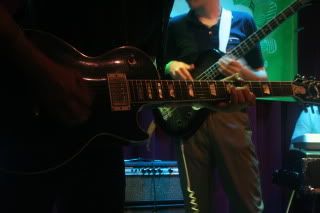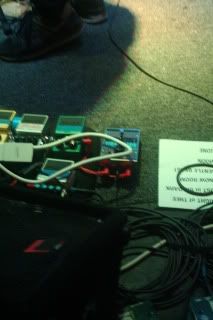 The Secret Life of Sofia
mellowed things out a bit. A lot. The music felt sparser and yet...it didn't. That doesn't tell you much about them, but I definitely liked the last song of their set, "Gone."
After saying "hi" to Matt of EarFarm (hi, Matt!), we headed over to Public Assembly for
Pop Tarts Suck Toasted
's showcase in hopes of catching
Palomar
. We were early enough to catch
Murder Mystery
, and my notes literally read : "<3 Pretty much. Hard to say much beyond that." So I won't.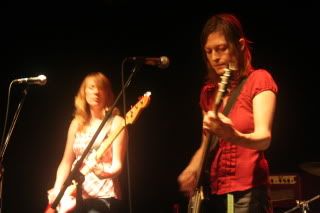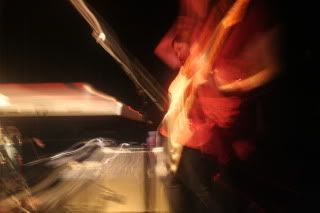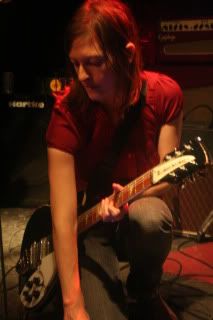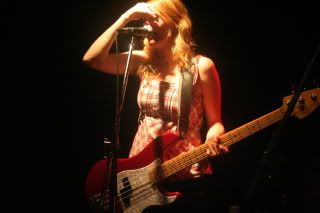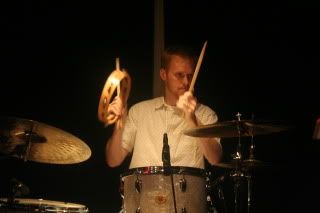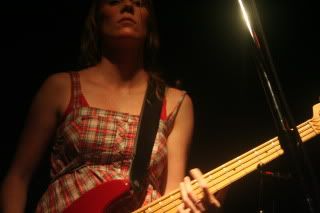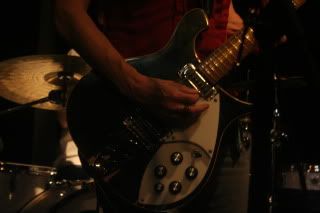 Anyway, I only have one song from Palomar (their cover of Brian Eno's "I'll Come Running"), which I
adore
, but I've also enjoyed everything else from them that I've heard online and not bothered to download onto my iPod. It was pretty much based on this one song that I decided to go to this show, and I was actually pretty excited.
I'm not sure it was worth it, though. Vocally, frontwoman Rachel Warren sounded rougher than she does on record – I'm not sure if she had some sort of cold or if her voice differs that much between real life and record. Also, I was put off by the fact that seemed a little...short. Not height-wise. Short to the point of almost being abrasive. It was off-putting. I only found myself enjoying about every other song as well. I hate giving bad reviews (what if it was just a bad night? What if I just didn't know enough of their songs to fully enjoy the set? Is it necessary to know a band's catalogue to enjoy them live, though?), I think, in the end, Palomar is a band I enjoy thoroughly more in mp3 form than onstage. Or maybe I just need to see them again, I don't know.
We wandered back to Spike Hill to catch some of closers
Shilpa Ray and Her Happy Hookers
' set before heading some. Wow! I love a woman who screams like that, who puts that sort of raw energy into her performance, and it carried over to the rest of the band. I heard later that this band played one of several "impromptu" street shows throughout the festival, and I'm kind of bummed I didn't catch that, or get to stay for more of their set. Jonathan, however, was wearing sandals and sulky that everyone was stepping on his toes and besides, we were tired. So homeward we went.
Coyote Eyes - "Kahlen"
pow wow! - "23 19"
The Secret Life of Sofia - "Moon on the Sea's Gate"
Murder Mystery - "Love Astronaut"
Palomar - "I'll Come Running" (Brian Eno cover)
Shilpa Ray and Her Happy Hookers - "Coward Cracked The Dawn [radio edit]"
Also, can I say that Spike Hill, despite its somewhat inconvenient set-up, is my new favourite venue? Any place that bothers to put out a pitcher of water and cups for its patrons get the thumbs-up. Really, it's the little, tiny things that count.