In the interest of full disclosure, I only went to
la Flèche d'Or
once to see
Pony Pony Run Run
before they were big enough to fill up
une salle
like
La Cigale
, but I didn't even stay for their set because my right ear was freaking out and I didn't know what wrong with it back then. (Which, ya' know, now I'm okay.)
And then I got news sometime back in May that it was shutting down due to "noise complaints." I thought it was gone for good (although
this site
posits that it was merely closed for soundproofing work) and was incredibly upset as I'd intended to spend every night I possibly could seeing shows there. La Flèche wasn't perfect - for starters, the drinks were terribly overpriced, but I suppose that was to make up for the fact that there was always 100% free entry. Plus they brought together obscure, up-and-coming, and fading bands from France, Belgium, the UK, the US, and more together for shows pretty much every night. I didn't go very often (if at all), but I did find some really great artists (like the aforementioned
PPRR
and
Georgie James
, for example) through their line-up.
Well, according to
A Nous Paris
, la Flèche is set to reopen on the 23rd, having been taken over by Alias and Asterios productions :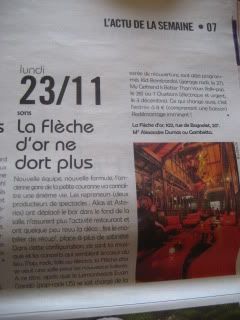 I'm not so keen on this whole "
plus de sobriété
" thing, but I guess if you're reopening a rock club that's been shut down for noise, it's necessary. The other big change : entry is now
payante
instead of free, which is a bummer. But 8 euros for a show is pretty reasonable and you get a drink along with that, so I guess it works out. Will that prevent me from going as often as I would have were it free? Yes. Do I still intend on making trips out there? Sure. Besides, Alias Productions sponsors a whole bunch of artists that I like, so I'm sure there will be shows I'll want to see.
Evan Dando from the Lemonheads is heading opening night, along with Chris Brokaw, Anoraak, and The Two. For the rest of the upcoming line up, go
here
.