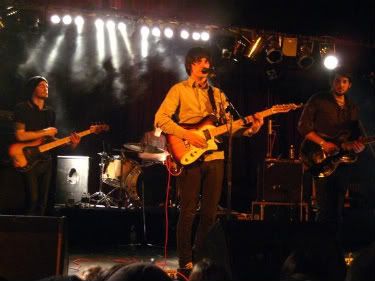 This is my sole decent shot from that entire concert in Framingham.
So apparently those few northeast dates last month were just a warm-up for the lads of NoY. Starting tonight, they let loose on the nation as a whole.
(Okay, that thinger says that they're starting tomorrow night, but rest assured, they are, in fact, playing Asbury Park, NJ tonight.)
There are way more dates for May and June up on their 'Space, including 17 April at UMass Lowell, 15 May at the
Middle East
up (Cambridge), and 14 June at the Blender Theatre (NYC).
Very unhappily, 15 May is
also
when
Bishop Allen
will be headlining the Middle East
down
, meaning a decision as to which band will be seen will have to be made, as I'm not spending the evening running between the two stages. Luckily (for me, anyway), BA is playing the
Iron Horse
in NoHo the day before, so one of their shows is guaranteed sometime in my near future.
Bishop Allen's May tour dates:
14 May 2008 Iron Horse Northampton, MA
15 May 2008 Middle East Cambridge, MA
16 May 2008 Music Hall of Williamsburg Brooklyn, NYC
17 May 2008 Bennington Sunfest Bennington, VT
18 May 2008 Black Cat Washington, DC
21 May 2008 Debaser Malmo, SE
22 May 2008 Mono Oslo, SE
24 May 2008 Kleine Freiheit Osnabruck, DE
25 May 2008 Gleis 22 Munster, DE
27 May 2008 Werkstatt Koln, DE
28 May 2008 Vera Groningen, NL
29 May 2008 Tivoli Utretch, NL
30 May 2008 Primavera Barcelona, ES
Nightmare of You - "I Was Never A Normal Boy"
Bishop Allen - "Like Castanets" (album version)
ETA:
A friend has informed me that when two headlining bands are playing the Middle East on the same night and one has to decide which show to go to, it is called the "Up-Down Problem" - at least, this is what friend's friend calls it, and I have decided that this is a good name, and that we shall use it henceforth. (Also I suppose that this works for any venue that has more than one stage. You could very much wind up with the Up-Down Problem at, say, Pearl St. or Knitting Factory.)
That is all for now.