I love Andy Ross' solo project,
Secret Dakota Ring
. Love love love. His debut LP,
Do Not Leave Baggage All The Way
is one of
those
records for me. One that I've been listening to, on and off, for what feels like ages, and yet I still find new layers and intricacies that I've never heard before each time I go back to it, and find that I appreciate it more and more as time goes on.
Mr. Ross has been working on a follow-up to
Baggage
for a while now, the nine-track
Cantarell
, and it'll be
out sometime in October or November
. Meanwhile, lead single "The Fade To Black," has
finally
been unveiled. I heard this song for the first time several months ago and it
blew my mind
. Really. It did. And now it's gone and lodged itself in my head and will
not
give up. It's a brilliant powerpop song that's peppy but not overly-so, joyful and joyous and loaded with tambourine and handclaps, but is never twee or saccharine. Pop songs like that, that make you want to dance but don't make you scrunch your nose at the silly lyrics that just don't work, can be a little hard to come by.
Oh, and Secret Dakota Ring (being Andy backed up by pals Josh, Travis, Kevin, and Eytan) is playing its first (and possibly last and only) show tomorrow night at Rehab. Details as follows (or you can just check out the poster):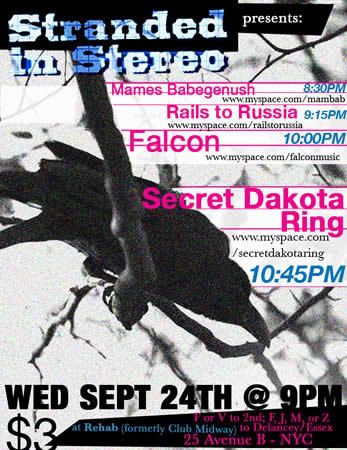 September 24, 2008 @ Rehab
25 Ave. B New York, New York 10009
21+
$3
If you can make it, I
strongly
recommend you go. This may never, ever happen again.
I was going to write about this sometime last week, when "The Fade To Black" was first posted, in hopes that I'd get a downloadable mp3 version for y'all, but that hasn't happened yet. There are all sorts of shenanigans going down with this release (a contest, a video...okay, maybe that's it), so I'll be sure to post about this again. Whether you want to hear about it or not.
In the mean time, check out "The Fade To Black" via this little
imeem
thinger below:
PS: Sorry for the lack of updates that aren't like, "Go check out something from the same ten bands I always mention!" My computer, which has most of my music and my list of stuff I need to post about, has decided to wig out on me and I've been working off my mom's desktop for the past few weeks. Plus life is crazy right now. Hopefully I'll post some other stuff in the near future. (I always say that, don't I? sigh.)