Hello, my lovelies in both cities. Bored tonight? Here's what you should check out: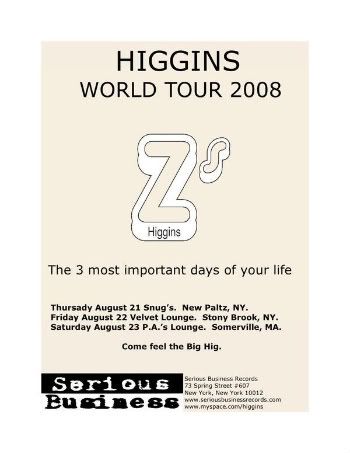 Higgins
just dropped their second record,
Zs
, on Tuesday and they're playing their second of two CD release parties tonight (the first was yesterday at Maxwell's; details for tonight are below. (Ignore the fact that the above poster is actually for a couple of shows they did in August. Sorry.)
Higgins @ SoundFix Records
Williamsburg, Brooklyn
8 pm
w/
Benji Cossa
You can listen to "Write It Down" from
Zs
over
here
.
As for you other kids...
There's this Tom Petty tribute show going on at the
Middle East up
tonight. Nobody's really sure
why
there's a Tom Petty tribute show going on. I think they all just really like Tom Petty. Anyway,
a bunch
of really
good
Boston
bands
are playing, so you'll probably want to go. Deets are on the poster, except for the fact that the music starts at 9:15.
Um. 'Tis all for now.