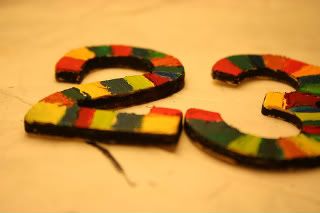 Photo taken by this lovely person, not I.
My 23rd birthday was two weeks ago.
I'm actually a little weirded out that I'm 23. I liked being 22, the evenness of it and the fact that it was my "Golden Year." (I guess that's what you call the year that follows your Golden Birthday...?)
23 is odd. 23 is how old some of my friends were, or were about to turn, when I met them and those are the friends I generally look to as "older" and "more mature," I guess. It's weird to describe.
And after 23 comes 24 and then 25, and so on, to the finish.
My friends have said you're so young, 23 is a great age, it was the best year of my life, that's when life really began for me, you're never as old as you think you are. And they're all right.
But it's still a little weird.
Here's a small handful of songs I've culled together for the occasion.
1) "Lucky 4 You (Tonight I'm Just Me)" - SHeDAISY
SHeDAISY is one my friend Rachel's guilty pleasures. This is a song about a bunch of exes, from what I can gather. Number 23 seems particularly vindictive. More power to her. Yes, I know it's
SHeDAISY
. No, I don't care.
2) "What's My Age Again?" - Blink182
What's my age again, indeed. I've read numerous times that Blink182 is actually a severely underrated band and have yet to seek out their later stuff.
Enema of the State
was a record I borrowed from a friend at age 13, maybe 14, and some of the songs (mainly the released singles, but "Going To College" as well) that have stuck with me. No one likes you when you're 23? That's an exciting prospect.
3) "23" - Secret Dakota Ring [
link
]
It's no secret that
I'm an SDR fan
. (lol, did you see what I did there? "Secret"? I didn't even plan that.) "23" is easily my favourite song of the lot, and probably one of my favourites ever. Cinematic and heart-wrenching and terribly pretty, it ever reminds me of cold snowy January in Massachusetts, 2006, sophomore year, which feels a world away, and a movie that has nothing to do with the song - but such is that funny thing called "memory." The far-off day when I turned 23 was going to feel weird, indeed.
Now I'm just glad that I bought
Baggage
when I did.