You'd think, given that they're one of my favourite bands and considering how
crazy emotional I got over their split
, I would have been in hyper-excited-fangirl mode for the one-set reunion of Boston's "local rock heroes,"
Scamper
. Don't get me wrong, I was
excited
. But not...overly so. It's difficult to describe, other than to say that the build up to their first last show was so intense that anything less than that just won't register.
The show itself, friends
Harris
' last, was a mish-mash of players and sounds. The Men were originally supposed to play, and then dropped out, leaving the penultimate spot to Scamper. Members of Harris noted that they wanted
Aloud
, who played at Scamper's last show, to join in as well, but they were booked for the night. Jericho Trumpet's (featuring Harris frontman Mike Nastri's younger brother, Matt) all-instrumental set was followed up by a mild punk band whose name I can't recall at the moment (but I'm sure somebody will remind me of it). And then a dose of powerpop followed by Harris, who meld pop and rock to sort of defy any sort of convenient label.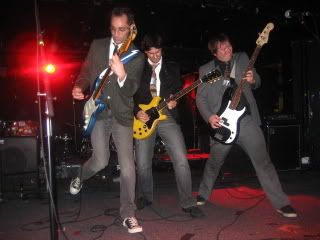 Reunited and it...okay, whatever, you knew that was coming.
It didn't even hit me until "Coughing Up Roses,"
well
into their set that, "Oh, right. Scamper. Yeah!" An utterly bizarre feeling, comparing the last time I'd seen them a year before, ready to cry during "Barcelona" (true story - drummer Mike said post-show that he couldn't watch me because I looked so darn miserable) to bouncing around and cursing the lighting for being sucktastic. Perhaps if they'd been headlining, had allowed themselves more time and more songs, the feeling would have been different, but probably only slightly so. Aptly quoting
10 Things I Hate About You
: "I know you can be overwhelmed, and you can be underwhelmed, but can you ever just be...whelmed?"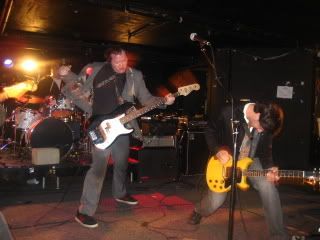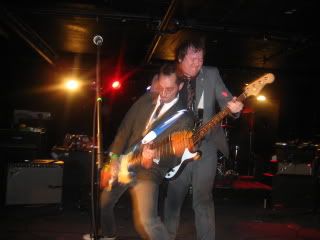 I was, however, blown away by frontman (co-frontman? what do you call it when there are technically two dudes singing?) Keith's performance. Seriously. There was a power, grit, and emotion to his singing (and playing, by extension) that I personally had never seen before. Granted, I've only ever seen them live four times. But he went from "guy I don't really know fronting one of my favourite bands and doing a rather good job of it" to "veritable rockstar" in the blink of an eye. He was
the
one to watch and further cemented the fact that this is not, and never was, a fluff pop band. The fact that he is no longer fronting a band is fucking criminal, truly so.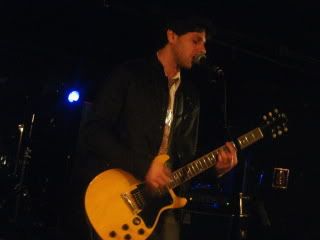 Dude to watch.
As for Harris, I honestly can't comment too much on their set because I've never been terribly familiar with their music, though that was the third time I'd seen them play and now I'm thinking maybe I should have familiarised myself with their catalogue because that was a band that deserved to be
far
more popular than they were. Sure, they played a two-hour set, which is slightly mind-numbing if you don't actually know the band's material, but they were an incredibly good band, defying labels and genres as previously noted and playing with an enviable energy and vibrancy throughout the long set. The indie music world is a far less rich place now that they're gone.
(Also, they kept playing new songs they'd recorded just before splitting up which was
hilarious
'cause it's like, "We're breaking up! Here's a new song!")

A really terrible picture of a lot of people onstage during Harris' almost last song.
At the end of the day (or set, whatever), Harris refused to do an encore...and (predictably) did one anyway, excusing themselves for a moment so they could actually figure out a song to play that they all remembered (presumably because they'd already played all their other songs). Maybe that's similar to calling quits and then playing your second annual last show. Maybe Harris will be back to dance on another band's grave next year; the way things are going, I wouldn't be wholly surprised. Then again, maybe these aren't really graves. Perhaps this is just the ultimate on-again, off-again relationship.
.....
If you're interested in hearing some of Harris' newer stuff, which they recorded shortly before deciding to call it a day, you can hear it at
their 'Space
.
No word (that I've heard) on what Harris' ex-members will be getting up to now, but
Brendan Boogie
-formerly-of-Scamper continues to play with his band, while former cohorts Nate and Mike have recently (re)launched a new project, officially titled
The Future Everybody
.