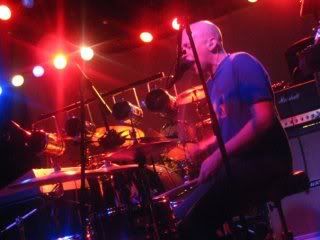 Credit to Rachel.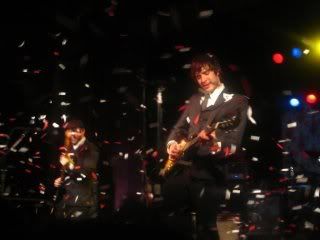 I don't like confetti.



Emily, your dad's here.*
OK Go
's set (and
Longwave
's and
Oppenheimer
's as well) at the Recher Theatre ran pretty much as it had the night before in Philly, minus a lot of the silly mistakes the headliners had made on opening night. With the added bonuses of having an even younger audience than the night before AND having an INCREDIBLY drunk girl (along with her equally drunk boyfriend) in attendance who took it upon herself to yell "FUCK PHILADELPHIA, WELCOME TO TOWSON" at every opportunity that presented itself, much to the chagrin of everyone else in the room. Also, despite being a small place (and my Small Venue Snobbery is well documented**), the Recher Theatre kinda', well. Sucks. In a "this lighting isn't terribly good" and "you can't get a glass of water" extortionist sort of way.
That being said, the energy was way up during this show, and I think it was the best performance of the week, given the freshness of the material and the fact that the Touring Bug hadn't seem to settle it quite yet. After the show, frontman Damian admitted that the band had gotten all of their other influences out during their first two records, and all that was left was Prince, and that while OK Go was never really an angsty band, record number three (tentatively titled
Help Is On The Way
***) looks be even less so than the first two.
So, speaking of this new stuff I keep going on about, let's look at some of the new material.
"Shooting The Moon"
- The perpetual opener featured Tim on a big bass drum, Damian on acoustic, and the band jamming away in a lovely outro which is unfortunately missing in this totally acoustic video (courtesy of "Intern Joe" at WMMR Philly). (Also, embedding is disabled, so you're just going to have to be unlazy and click the link yourself.)
"White Knuckles"
This might be my favourite of the new stuff. Honestly. After they played this at the TLA, Damian asked, "Can you tell we've been listening to Prince?" Yes, Damian.



"I Want U So Bad"
This song makes me
weak in the knees
. (And I thought I was past the weak-in-the-knees phase. Guess not.) The bridge pretty much does it. The second vid is of better quality, although, tragically, only a clip.
"Back From Katmandu"
We've gotten
a taste of this song before
; here it is in all its live glory. Also, cowbell + double-necked, double-stringed guitar with capo on seven? Interesting.
More new stuff in the next post, otherwise you wouldn't want to read them.
More photos (although a rather tiny amount) can be found
here
.
*Midway through OK Go's set, the venue made an announcement to the tune of, "Emily so-and-so, please report to the front of the venue." The entire band stopped and looked around, completely stunned, with Damian asking, "Did they just make that announcement in the middle of our set...? In case you didn't catch that, Emily, your dad's here."
**Actual conversation that occurred during the course of the week:
"Are you one of those girls who, as soon as a band gets big, you don't listen to them anymore?"
"No, I just don't see why I'd want to see a band with 4,999 other people when I can see you with 399 other people."
***Or so I've heard, but I can't for the life of me find the link...