As your local former
Ser Biz
intern, it is my duty to inform you that disbanded as of I-don't-remember-when SBR band
Man In Gray
are back with a one-show reunion at
Union Hall
on 20 Feb. :
Man in Gray
With not-on-Ser-Biz-but-much-beloved-by-them-nonetheless
El Jezel
and
Coyote Eyes
(who, if you'll remember,
I saw at Northside back in June
)
8 pm
8 dollars
21+
There's some other Business going on (upcoming shows and records) that I haven't quite caught up on, so you'll have to wait for that. In the meantime, feel free to download SBR's annual
free
compilation of last year's releases and hits,
The Year In Business : 2009
.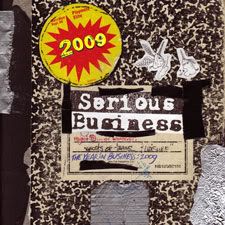 Tracklisting :
1) SAADI - "Bad City (Serious Business Remix)"
2) The Two Man Gentlemen Band - "Me, I Get High on Reefer" (live)
3) The Paparazzi - "The Rococo Tape"
4) The Octagon - "Suicide Kings"
5) Higgins - "What Don't You Want?"
6) Jack and the Pulpits - "Francypants"
7) Rocketship Park - "Spinning Globes"
8) Benji Cossa - "Annie Delia"
9) The Unsacred Hearts - "Fake Kisses"
10) The Two Man Gentlemen Band - "Drip Dryin'(Reprise!)"
You can download the whole thing in a .zip
here
.
In case you missed out,
The Year in Business : 2008
is
here
and
2007
over
here
.